Exotic tropical island vacations, luxury and adventure cruises, romantic getaways, safaris, and tours. You need a vacation and we're here to help you find the perfect trip. We'll work with you to match your travel interests and your lifestyle with the vacation of your dreams.
Contact us today and get packing!
Browse or search through our site (which is filled with the most comprehensive and up-to-date specials available) to see the wide variety of trips we can offer you. You can request more information for any vacation we have on our site and then we'll work with you to help find the perfect trip. We're dedicated to
helping you find the holiday that will match up with your vacation needs and your budget. We are the specialists in Gay Travel to destinations throughout the world and we are pleased to offer one of the most comprehensive websites for the gay and lesbian traveler. But please note that information on this site is not exclusively for gay clients, however those tours, cruises and vacations that are, are clearly marked as such.

Providing extremely high-quality and personalized service is our number one goal and we can assist in coordinating every detail of your travel plans. We're looking forward to making your next trip a memorable and enjoyable one!
??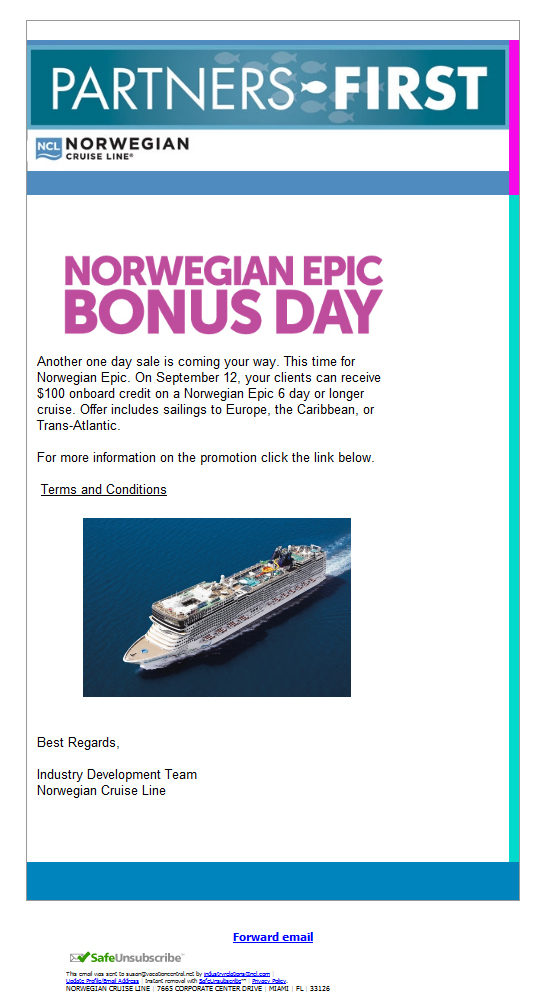 We are proud to represent some of the finest names in gay and lesbian travel, such as:
RSVP Vacations - Atlantis Events - R Family Vacation
Olivia Cruises - Zoom Vacations - Pied Piper - Toto Tours
We won't be undersold!
If you see it somewhere else for less, we will match the price or even better it, if we can!
Can't find what you're looking for? Call us or send us an email and we'll do our utmost to find it for you.
Book your next CELEBRITY Cruises vacation by April 30, 2014, in an ocean view or higher stateroom, then choose your offer and start planning a vacation that will transport you far from the ordinary. And, with many cruises sailing from May 2014 to March 2015, you're sure to find the perfect vacation and the perfect offer to go with! Choose one of the four incredible options below. With the freedom to choose the offer that best suits your vacation style, you can customize your vacation to elevate it to the next level.
OFFER CHOICES
OFFER DETAILS
Free Beverage Pkge
Receive Classic Beverage Packages for two, incl. spirits, valued at $88* per day, with beverage gratuities covered by us - a 12-night sailing has a total value of more than $1,056!
Free gratuities
Receive prepaid gratuities for two, value of up to $30* per day
Onboard Credit

Receive $100* for 4-5 night sailings
Receive $200* for 6-9 night sailings
Receive $300* for 10 night or more sailings


Choice Air Credit
Receive $200 air credit* for 4-5 night sailings
Receive $400 air credit* for 6-9 night sailings"
Receive $600 air credit* for 10-night or more sailings
* PLEASE READ: To qualify for the Pick Your Perk Offer, the following requirements must be satisfied. Cruise must be booked March 1 – April 30, 2014 (the "Offer Period") and must be a Europe, Caribbean, Asia, Alaska, Panama Canal, Australia 4-night or longer cruises that departs May. 2014 – March 2015 ("Offer Cruise"). Offer applies to ocean view and higher staterooms, and Fivestar, Group X, and cruisetour price program rates and is applicable to price programs that begin with FST, TR, and GRPX. Offer cannot be combined with any other offer, promotion, price program, including, but not limited to, Exciting Deals, Category specials, Category guarantee rates, CHX, reduced air, Interline, Senior, Travelzoo, resident, travel agent, and employee rates, or discounted rates. Offer is applicable to new individual bookings and to staterooms in non-contracted group bookings which staterooms are named and fully deposited during the Offer Period. Bookings that meet all of these requirements are "Qualifying Bookings." Qualifying Bookings may choose any one of these options: Classic Beverage Package for Two, Free Gratuities, Onboard Credit, or Celebrity's ChoiceAir cruise savings (if guest purchases air travel through Celebrity's ChoiceAir). Limit of one Offer per stateroom. You must notify your travel agent of the option you chose by April 30, 2014. All Guests in stateroom must select the same option.
Classic Beverage Package for Two applies to two guests per stateroom and includes beers up to $5 per serving; spirits, cocktails, and wine up to $8 per serving, all soda selections, fresh squeezed and bottled juices, premium coffees, and teas and non-premium bottled water. Server gratuities are included (amount based on gratuity guidelines). Premium Beverage Package upgrade available onboard your cruise for an additional charge of $10 per person, per day plus $1.50 beverage gratuity per person. Terms of Celebrity's Alcohol Policy apply, including a minimum drinking age, which varies by itinerary. Guest must provide date of birth by April 30, 2014.
Free Gratuities Offer applies to two guests per stateroom and provides for prepaid stateroom, waiter, assistant waiter and head waiter gratuities (amounts based on gratuity guidelines).
Onboard Credit is per stateroom and amount is based on the number of cruise nights: 4-5 nights $100; 6-9 nights $200; 10 nights or more $300. OBC has no cash value, is applicable to cruise only, non-transferable, not redeemable for cash, will expire if not used by 10:00 PM on the final night of the cruise, and will be applied to reservation within 10 days of booking.
Celebrity's ChoiceAir air savings amount is limited to one Offer per stateroom, and based on the number of cruise nights: 4-5 nights $200; 6-9 nights $400; 10 nights or more $600. Celebrity's ChoiceAir air travel must booked by April 30, 2014. To redeem Celebrity's ChoiceAir offer, guest must contact their travel professional or Celebrity by April 30, 2014. After ChoiceAir air travel is booked, savings will be applied to the cruise fare if cruise fare has not yet been paid in full or will be credited to guest's method of payment if cruise fare has been paid in full. Credit not redeemable for cash and is non-transferable. Cancellation of air will result in removal of savings. For full terms and conditions for Celebrity's ChoiceAir visit celebritycruises.com/air.
Unless stated otherwise, all other terms of the Offer apply. To redeem offer contact your Travel professional.
All Offers are non-transferable and applicable only to the Offer Cruise. No refunds or credits for unused options. Offer is subject to availability and change without notice, capacity controlled. Offer not applicable to charters or contracted groups. Cruise portion of cruisetours eligible for Offer based on number of cruise nights. Single occupancy bookings eligible for Offer. Prices and offers apply to residents of the U.S. and Canada only. Residents of any other country should contact their local Celebrity Cruises office or travel partner. Refer to celebritycruises.com for complete terms and conditions. For full terms and conditions for Celebrity's ChoiceAir visit celebritycruises.com/air. Celebrity Cruises reserves the right to correct any errors, inaccuracies or omissions and to change or update fares, fees and surcharges at any time without prior notice. ©2014 Celebrity Cruises Inc. Ships registered in Malta and Ecuador.